Not your postcode?
Setting the first half of your postcode shows you the full choice in your area.
In a moment you may be asked to share your location. Please allow this so that we can show you the full choice in your area (inclusive of delivery charges). You may also set your location manually using the button above.

Click this messge to hide it.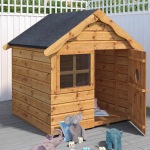 What size wooden playhouse do I need?

The space will always be used, so buy the biggest play equipment you can afford provided that it fits comfortably in the space available. There are no precise guidelines regarding the size. Our playhouses range in size from a small single room playhouse to a larger 2 storey playhouse or a platform playhouse. Remember to allow for any playhouse verandah. Often the size of your playhouse or play centre is dictated by the space available. At Summer Garden Buildings, we offer a wide range of sizes to suit every space.

Where should I locate my wooden playhouse?

Ideally your playhouse or should have a clear space at least 18" wide on all sides, if possible. This ensures easy access for both installation and future maintenance. In reality this is often not practical and at many sites it is not needed. A reduced clearance is often possible on one or two sides. If the space around your playhouse is restricted remember to allow for any roof overhang. You should also cut back or remove any nearby shrubs and trees. Remember to allow for future growth. We recommend a sheltered position which is not exposed.

What type of base is suitable for my wooden playhouse?

All playhouses need a substantial base. The base should be solid, square, flat and level to ensure the stability of your playhouse. Paving slabs or concrete are ideal. A solid concrete base is more permanent and normally more expensive but it provides an excellent base especially for a larger playhouse. Paving slabs are more practical and cost effective, especially for a smaller base at the far end of the garden. The base should be no smaller than the floor size of the new playhouse and no more than a few inches larger.

What access is required to deliver my wooden playhouse?

If your order includes installation the playhouse will be delivered and installed on the same day by prior appointment with you. A clear access route is required from the lorry to the prepared base, with no access restrictions. The wooden sections are often large flat panels which may be as long as the playhouse. Possible restrictions include archways, narrow passages, sharp corners and flights of steps. It is not normally possible to lift large panels over fences and walls. Access through the house may be possible with advance notice. If required larger panels can be made in smaller sections for a small surcharge. Many of our playhouses and play centres include express delivery or next day delivery with kerbside delivery. Please advise us if there are any access restrictions at the site.

Is my wooden playhouse suitable for DIY assembly?

Many of our playhouses are suitable for DIY assembly. Assembly is a straightforward and satisfying project for any DIY enthusiast using only basic tools, such as a hammer, a screwdriver, a power drill, a spirit level, an adjustable spanner, a knife, a stepladder and safety goggles. You should not attempt to lift heavy sections without a helping pair of hands. Remember that extra time spent preparing a good base is normally repaid with time saved later on during the installation.

How should I maintain my wooden playhouse?

All of our children's wooden playhouses and other outdoor timber buildings require regular treatment. Summer Garden Buildings recommends that the external timber should be treated with a good quality wood stain every year. This will prolong the life of your playhouse. Some of our wooden playhouses include a painted finish. All major wood stain manufacturers offer suitable products in a choice of colours, available from good hardware shops. At Summer Garden Buildings we offer a range of microporous wood preservatives in a choice of colours. Although normally offered only with a new playhouse or play centre we are always happy to supply any of our microporous preservatives separately at any time to an existing customer who purchased one of our buildings. Summer Garden Buildings also recommends that you regularly oil the door and window hinges as required to ensure continued smooth operation.

What is shiplap cladding?

Shiplap is the traditional and ever popular timber cladding profile for use in children's playhouses and other garden buildings. Shiplap features smooth planed and fully interlocking tongued and grooved timber boarding. The design ensures that rainwater drains quickly and the timber dries quickly. This helps to ensure a longer life for your playhouse. Our children's playhouses feature properly tongued and grooved timber boarding which is stronger than the half lap shiplap or rebated shiplap used by many others. The smoother finish of the planed timber is also safer in an area where kids are playing with less chance of splinters.

How safe is my wooden playhouse?

We take care to ensure that our wooden playhouses are as safe as practically possible and strong enough to withstand normal play. Door hinges include a gap large enough to prevent trapping a child's finger as the door closes. Doors are non locking and easily opened with little force. Many doors feature piano style continuous safety hinges, angled to leave a gap when shut to prevent your child's fingers getting trapped. All stable type doors feature a gap between the doors to prevent your child's fingers getting trapped. Doors and windows are glazed with perspex safety glazing. No decorative lead is applied to the glazing. The preservative used complies with BS5665/EN71 part 3. Other safety features include carefully constructed kid-safe wooden balustrades and hand rails. Planed timber is used throughout our range of playhouses and play centres to reduce the risk of splinters. Screws and nails are recessed into the wood with no points or sharp edges protruding. Even our lowest priced playhouses comply with BS5665 EN71 and include CE Safety Certification in accordance with European health, environmental and safety regulations.

Is planning permission required for my wooden playhouse?

The majority of playhouses do not require planning permission. However, permission is required for any building which covers over half the garden, which is not for domestic use or which is over 3 metres high with a pent roof or 4 metres high with an apex roof. Larger playhouses which are within 2 metres of a boundary and over 2.5m high (8'2") require planning permission. Some two storey playhouses or platform playhouses and taller playhouses with a taller eaves height may be over 2.5m high. Planning permission may also be required for any playhouse which is nearer to a public highway than the original dwelling. For planning purposes a public highway includes any road or footpath with a public right of way. If you live in a Conservation Area or a Listed Building permission may be required for any garden building over 10 cubic metres. This brief summary is not intended to be a comprehensive guide. Contact us for further advice or contact your local planning department. Please note that planning regulations apply to any building whether temporary or permanent including children's playhouses.
Click here to return to FREQUENTLY ASKED QUESTIONS.